Supporting the local community since 1965
The team at South Perth Lions, along with 1.3 million Lions members worldwide, are ordinary people doing extraordinary things – fundraising to support charities, Lions International foundations, community projects, disaster relief, and many more. South Perth Lions also support a unique jazz music program for youth aged 8-21 years and a fantastic Big Band, which performs monthly dances and a range of other community and corporate events.
We are part of Lions International, the largest service organisation in the world. Our club is within Lions District 201W2, located in close proximity to the city centre of Perth. South Perth Lions Club was formed in 1965 and is one of the oldest Lions Clubs in Western Australia.
The club meets twice monthly on the 2nd and 4th Tuesday, 6.30 pm for 7.00pm start. BYO drinks. Meals not available normally, but we have occasional bring-a-plate dinners. Venue: Manning Senior Citizens Centre situated at 3 Downey Drive, Manning.
Our Fundraising Projects
Monthly Big Band Dances: The South Perth Lions Big Band plays music for dancing and listening on the 4th Friday of the month at the South Perth Community Centre, to raise funds for the charities and community services supported by the South Perth Lions Club. Big Band members donate their time for these fundraiser dances.
Big Band for Hire: The South Perth Lions Big Band is available for corporate, Lions and civic functions. Contact Lorna Robertson, Band Coordinator on lionsband.southperth@gmail.com or phone 0408 160 553.
Cake and Mint sales: Lions Christmas cakes, puddings and mints are sold to the public and businesses to raise funds for the Club. You can always find these delicious cakes and puddings at the Farmers' Markets on Manning Road each Saturday in July, November and December.
Entertainment Book sales: These are now available online for purchase! Just specify Lions Club of South Perth when you select your fundraiser charity and the Club receives 20% of the sale cost.
Voluntary Work: Whether it's marshalling at the City to Surf Fun Run, controlling a car park at a the annual Cannington Show, sausage sizzles at Bunnings and other venues, assisting at Southcare, with Rainbow Fellowships, Christmas gift wrapping at local shopping centres or even dressing up as Santa Claus, our members are keen to get involved.
Need help with a project?
Phone Rob George ‭0419 133 177‬ or Mark Hastings 0457 354 760‬.
For music queries ring Lorna Robertson 0408 160 553.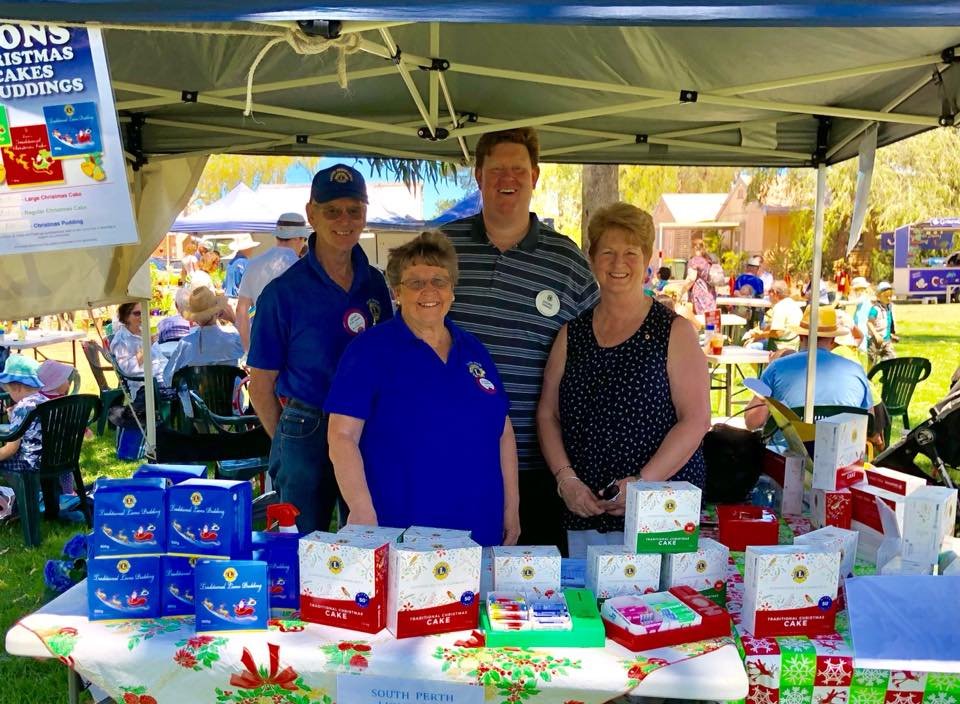 Club Office Bearers
President: Rob George
Secretary: Mark Hastings
Treasurer: Bob Whitney
Tail Twister: Anita George
Membership Chair: Anita George
Vice President: Paul Roberts
Band Coordinator: Lorna Robertson
Cake Chair: Anita George
Mint Chair: Bob Whitney
Website Coordinator: Lorna Robertson
Membership is by invitation and is open to all people of good standing in the community. Contact our Membership Chair, Anita George on 0400 766 794
Other Projects
Free Skin Cancer Screening and Hearing Assessments: These ever popular health checks are periodically arranged at the Farmers' Markets on Manning Rd.
Containers for Change WA: Cash in your containers, start making real environmental change
and donate to Lions Club of South Perth at the same time! When you return your empty containers to a collection point just enter our scheme ID 10358736. SIMPLE!
Lions Youth of the Year: Our club participates in this project, along with Lions clubs throughout Australia. It is designed to encourage student interest in leadership and the qualities required to take an active and constructive role in the community. A high level of academic, leadership, sporting, public speaking and citizenship achievement is sought in potential winners of the Lions Youth of the Year competition.